a-squared Anti-Malware 4.5 got the Epsilon Award 2009!
During the annual European Software Conference, the Epsilon Award is given to the best software of the year.
This year's Epsilon winner is a-squared Anti-Malware!
That award winning was not only based on our efforts, but also on the massive support of the a-squared Anti-Malware user community.
Thank you very much!
The prize includes:
A piece of art by an European artist and a winners certificate.

200 Euro in cash. Emsisoft will donate that amount to the SOS Children's Villages organization that was founded in Austria.

Press coverage of our products.

Entry to the Hall of Fame which means free full access for the winner only to future ESWCs.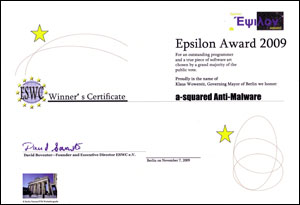 Here's a short explanation of the Epsilon banner from the ESWC website:
Epsilon is the fifth letter of the Greek alphabet and the Phoenician Word for sun derives from that root. An astronomer knows that there is a constellation in space called (Lambda)-Epsilon which we can see at the right hand side. So the Epsilon Award is a combination of Excellency, craftsmanship and visionary ability. These are characteristics of an outstanding programmer and a piece of true software art.
a-squared Free outperforms Malwarebytes in detection and removal!